One of those things that I kept was this old table lamp because I see the potential to update it and make it look pretty.
Here's a closer look of the lamp shade, you can actually see some dirt spots.
you can't see the dirt spots? here ---
Look how nasty and ugly the lamp shade was! now you see what i am talking about...
So what I did was, I removed the lamp shade so I can paint the base.
Wrapped the bulb and the cord with plastic and taped it with painters tape to avoid overspray.
A red spray paint and a little bit of sanding in between coats.
And this is how the base looks like now!! Isn't it pretty?
And then I have this pretty fabric that I bought from JoAnns.
I wrapped the shade with this fabric, it was a little tricky because of the shape of the shade.
First, I just lay the shade on top of the fabric with about 2 inches allowance on each sides.
Then I fold the fabric by simply following the pattern of it, then cut the fabric.
Then I ironed it out to straighten the wrinkles of the fabric that was caused from folding while at the store.
Then I placed the fabric pretty side down and lay the shade on top of it.
I used spray glue to adhere the fabric on the bottom part of the shade - just glue the trim.
Then carefully adhere the fabric all around the trim by just following the pattern of the fabric.
When it's done, since my shade is cone-shaped, I made pleats on the fabric before adhering it to the top trim of the shade. This time, I used hot glue to adhere the fabric to the shade.
And when i got done with it - it made me happy!! Because it looks so pretty!!
ta - da!!
So I placed back the shade to the base and here is my OLD but IMPROVED table lamp!
Another picture of my pretty table lamp!
Placed the table lamp in our guest room.
I am so happy and pleased with the finished product!
Next time, I will take a picture before doing anything with any of my projects so that I can show you the before and after pictures.
What do you think? Do you like my old but improved table lamp?
huggies***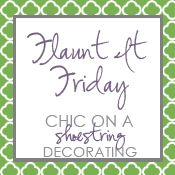 The Chicken Chick - Clever Chicks Blog Hop